Discord bots are applications that allow you to automate various server functions in the chat program. These robots are able to chat and welcome new members or act as a moderator of inappropriate content on channels.
Bots can also play music, post funny memes and photos, play games on chats, and other features. We've put together a list of the 12 best bots for Discord in 2021.
1. MEE6
THE MEE6 is a moderator bot that allows you to easily create custom commands through a control center. As far as moderation is concerned, can welcome new members, manage spam, banning those who do not respect the rules, among other features.
The app offers options to gamify your channel, rewarding the most active users with points and exclusive permissions. The robot also has an integrated music player where members can vote to skip unwanted songs.
It also sends in-chat notifications about news on Twitch, YouTube, and Reddit on Discord.
2. Lorita
Lorita is a Brazilian bot with more than 100 commands that promises to offer fun, moderation and engagement in its channels. Lets you play games like Akinator, insert fun pictures and collages or listen to your favorite music without leaving the chat.
The app also ranks the most active users, which improves your reputation. With regard to administration, it can be used to ban or expel members, send notices, among other features.
3. Dyno
THE dyno is a moderation bot, which allows you to delegate roles to members, delete messages and ban unwanted users. The control panel available on your website ensures that the server administrator can easily customize commands and actions.
That doesn't mean there's no room for fun. Pictures of dogs and cats, "dad" jokes, playing rock, paper and scissors, and seeing Chuck Norris facts are just some of the options available.
In addition, it can give information from Google searches, Overwatch stats or play a YouTube playlist within Discord.
4. GarticBOT
THE GarticBOT has the proposal to bring games to its server on Discord. Among the games is Draw, in which members must get what is being drawn right. There is also the quiz game GamaGame and the word guessing game called Anagram.
Anyone who has a good memory must like the Musical, in which they need to find the word that is missing in the part of the song shown.
5. Dank Memer
THE Dank Memer is dedicated to beloved memes. The application has more than 100 commands to view fun images collected daily from Reddit. It is also possible to create your own meme in seconds. But not only that.
The program also has a monetary system. Members of your channels can play with bets, steal money, play the lottery, among other features.
6. Rythm
How to put music on Discord from mobile or PC
According to its creators, the Rythm has only one goal: to deliver the best music experience from Discord. To do this, it offers high quality audio from different sources, including YouTube, SoundCloud and Twitch.
The app is also compatible with YouTube playlists, displaying the tracks included in the list on the channel itself. The user can still see the lyrics of the currently playing song or search for any other song.
7. GAwesomeBot
THE GAwesomeBot it packs so many features into one bot that it's even difficult to list them all. Capable of moderating channels and entertaining its members, it offers the possibility of chat rooms in smaller groups. It also allows you to search Google, Reddit, Wikipedia and YouTube.
There are also quiz games, time and time information and a unit conversion tool. If someone breaks any group rule, the app kicks them out for you. But it also ranks the most engaged members and rewards them with GAwesomePoints.
8. Discord Dungeons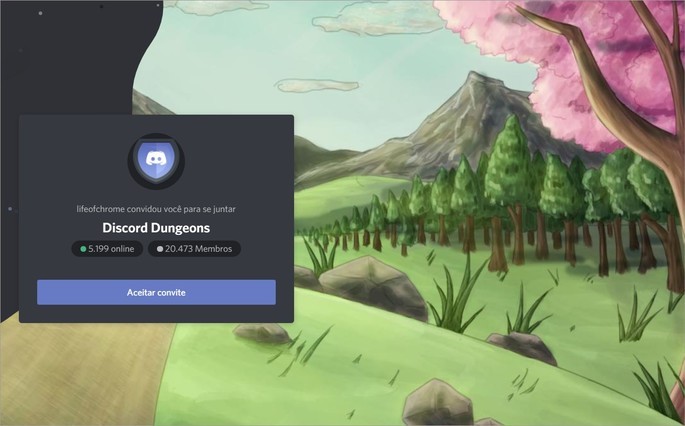 THE Discord Dungeons allows channel members to play RPG. Despite focusing on single player, it is possible to play with friends and against enemies. Your character's progress is saved, regardless of the server you are on.
As in other games of the genre, the player must use their skills to thrive in the stories. Whether exploring nature or buying essential items such as weapons and tools. A great adventure without leaving Discord.
9. Donate Bot
THE Donate Bot allows you to perform secure real business transactions through Discord. Free, the service only requires the user to have a server in the chat program and a PayPal account. The tool can be used to sell both physical and digital products.
The only fees charged are standard fees for transactions made via PayPal.
10. TacoShack
Best game bots for Discord
THE TacoShack it may be the hobby you were missing to fill your channel members' free time. The bot brings a game in which your objective is to manage a taco shop. As a manager, you must make decisions for the growth of the business.
You can, for example, change the menu, hire employees, make advertisements, as well as clean and decorate the establishment. Sell ​​as many clubs as possible to invest in food trucks or team up with other players to create franchises.
11. Change
THE change is a bot that has a gacha card game on its server in Discord. There are more than 50 thousand characters to collect, all originating from famous animes, mangas, comics, and games.
There are still several multiplayer games to excite your channel members and even the possibility of hunting Pokemon. Some commands, however, are only available for a fee.
12. Smoogle Translate
Did you create a multicultural channel, with people from different countries? THE Smoogle Translate can help members by performing real-time translations into multiple languages. To translate a text, just use the command corresponding to the desired language. Or react to a message using the flag icon for the desired language.